San Buenaventura is just a short walk from
Panajachel, located on an incredible nature reserve.
Our hotel has 20 rooms & apartments with private bath,balcony
and a breathtaking view of three volcanos and Lake Atitlan.
We have a restaurant, room service, cable TV, telephone, sauna
"Tuj" (indigenous steam bath),private beach, jacuzzi, pool,
bicycles & kayac rentals.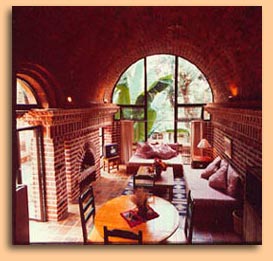 Our prices: $ 85.00 to $ 215.00
Reservations : 16 calle 4-53 zona 10
Edificio Marbella, mezzanine of."A"
Guatemala City 01010
Central America
Tel: (502) 337 0461
Fax: (502) 337 1961
www.hotelsanbuenaventura.net
Panajachel : Finca San Buenaventura
Panajachel, Solola, 07009
Tel: PBX (502) 762 2559
Fax: (502) 762 2059
E-mail us