Welcome to the Pizzeria Florencia! We are located on the famed Calle Santander right across the street from "Telgua" in the heart of Panajachel 3 blocks from Lake Atitlán.

We not only serve freshly prepared pizza with a variety of toppings but we also feature Argentinean empanadas as well as delicious hamburgers and cheeseburgers. You can eat in and watch the sights of Calle Santander
or you can take out.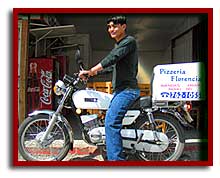 For your convenience we also have home delivery available. Just call us at 7762-1055 and your pizza will be delivered fast while its still hot and fresh. We also have a variety of sodas and beer for take out. Think of us the next time your planning a birthday or for any special occasion at all.
We are a perfect choice to cater to your
needs.